Previously in this series, we've talked about using Eyefinity with older displays and how to find the right adapter for non-DisplayPort monitors.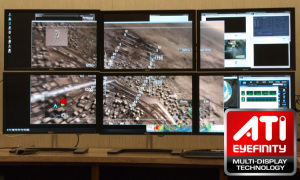 Obviously this confusion will fade away as older non-DisplayPort monitors are gradually replaced by new DisplayPort-savvy displays. For reasons of cost though, don't expect to see that too soon. Until then here are some rules of thumb.
A maximum of 2 VGA/DVI/HDMI monitors can be enabled simultaneously by using a passive DisplayPort adapter/dongle on FirePro cards. (about $22)
To enable support for more than 2 VGA/DVI/HDMI monitors, active DisplayPort adapters/dongles are required (about $28 but included for free, one for each DisplayPort output, w/ the latest generation of FirePro cards).
To support a dual-link DVI monitor, a powered, active DisplayPort to DL-DVI adapter/dongle is required (about $80)
DisplayPort monitors of any resolution require no adapters/dongles
VGA monitors can be supported via:

Native VGA connector from the graphics card
DVI-I connector + passive DVI to VGA adapter
Active DP to VGA adapter
Eyefinity is a game-changing technology for boosting productivity at very low cost and low power. By including active adapters in the new FirePro line, AMD is making the user experience for Eyefinity significantly better and thus more pervasive.
I actually read a Twitter post the other day that seems relevant here: "RT @cavemanjim: Biggest takeaway from AMD Fusion Summit is that AMD actually cares about user experience. It's not a means to an end, it is the end."
Author: Tony DeYoung