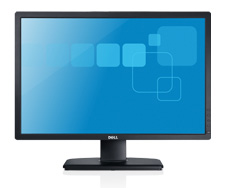 What is the single most important hardware decision for any CAD user? Their choice of display. This is especially true given the short half-life of today's workstations. You may have to live with your display through two, or even three, different workstation purchases.
Where to Start
First, the biggest factor affecting your choice of display is cost. Please: Do not scrimp on your display budget. If you must cut back on costs, hold off on that extra system memory or hard drive storage (you can upgrade both later).
Second, buy the largest display that fits your budget and quality specifications, as well as workspace. The bare-bones minimum size for even semi-serious CAD work is 24″. If you buy anything smaller, you will regret it every time you execute an extra zoom or pan to get the required view: During the course of a single workday, there might be hundreds of such productivity-killing distractions. We strongly recommend a minimum 27″ display for anyone that works fulltime with CAD.
Third, the transition away from CRT- based displays is complete. Today's display choices are LCD-based. The newest type of displays, sometimes listed as LED, are really just a type of LCD panel that uses energy-efficient LEDs for the backlight. These present a more pleasing and evenly distributed light to the screen.
Other Things to Consider
Here is a list of other factors, listed roughly by importance, to consider when
shopping for your next display.
Resolution: For 24″ class displays the maximum resolution should be at least 1920 pixels across horizontally. At the high end, expect 2560 pixels for 30″ displays—see note below about graphics card.
Brightness: Measured in cd/m2 (candelas per square meter), look for a minimum rating of 250, and preferably 300 and above.
Contrast: Rating of at least 1000:1 is ideal. (Not to be confused with dynamic contrast, which may be listed as 1,000,000:1 or higher.)
Response time: Should be no higher than 8ms; shoot for under 6ms. Some high-end displays now claim 2ms response times.
Viewing angle: At least 170° is reasonable. Newer displays now offer 178°.
Screen surface: This factor may be more or less important to you, depending on how harsh the light is in your workspace. In general, you will give up some brightness for more glare control.
Color depth: Today's minimum of 24bit (16.7 million colors) is fine for most CAD users.
Color Accuracy: Not essential for most of you, unless you are creating drawings or renderings for publication where it is important to match colors for printing.
Connection options: Expect at least D-sub and DVI connectors; many new displays now support DisplayPort, the latest video/audio standard.
Graphics Card: To ensure that you get the most out of your new purchase, double-check that your graphics card handles the display's maximum resolution and supports its best available connection option.
Next time, we will finish our discussion on choosing a CAD display, and make a suggestion on how to get the most out of your new purchase.
Author: Art Liddle