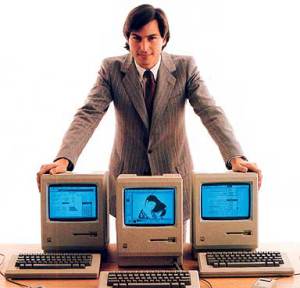 CADspeed editors would like to pay tribute to Apple cofounder and former CEO Steve Jobs, who passed away on Wednesday. Although PC users outnumber Mac users in our field, often it was technology conceived by Jobs and developed by Apple that influenced and even transformed the CAD world over the years.
Under Jobs, Apple released the first Macintosh 128 in 1984, according to Wikipedia. Just a year later, Diehl Graphsoft was founded and released MiniCAD, which became the best-selling CAD software on the Mac. Alongside MiniCAD, Diehl Graphsoft also released Blueprint, a 2D CAD program for the Mac targeted at architects. Now MiniCAD is known as Vectorworks and Diehl Graphsoft is Nemetschek Vectorworks, still major players in the CAD world.
In those early years, Apple made forays into several technical, architectural, and engineering markets. Over the years, the company lost ground to PCs in some industries, but Apple stood strong among its dedicated users in 2D design and video markets. Some major CAD software developers, including ArchiCAD and Vectorworks, have supported Mac users for decades.
Jobs stood fast in his belief that hardware and software created by the same company was the way to develop the best products. Apple's rise in the past decade, with the introductions of the iMac, iPod, iPhone, and iPad, is a testament to his vision. "If the hardware is the brain and the sinew of our products, the software is their soul," was one of the last things he said publicly, at an Apple event on June 6.
Today, Jobs' legacy lives on in the recent re-release of AutoCAD for Mac and the growing number of CAD-related apps built on Apple's iOS platform. Because of Jobs, somewhere right now a CAD designer is sitting on a bench in a park, eating lunch and using an iPad to view and mark up a CAD drawing. One man's vision changed our world. From all of us, thank you, Steve Jobs.