When people think of cloud computing, benefits such as convenience and portability often come to mind. After all, the cloud may or may not deliver a faster experience for users of CAD solutions when compared to desktop processing. With this in mind, why then is cloud computing garnering so much attention these days?
It's simple. The real benefit lies in the significant speed gains that emerge in your workflows. So if you find yourself twiddling your thumbs and monitoring your desktop CPU as it churns away at processing complicated client presentations, a cloud-based workflow could drive some needed improvements.
For example, under normal circumstances, if you want to generate a set of construction documents in PDF form, containing 10, 20 or even hundreds of sheets, sections and details on your local machine, this process can tie up your desktop for a considerable amount of time and lock you out from working. This forced downtime will vary, depending on the complexity of the viewport update and render.
Utilize the cloud, however, and the steps are basically the same, but you gain the benefit of being able to use your desktop during the process. This is because the calculations needed to generate sections, elevations, renderings and Building Information Modeling (BIM) data shift from the desktop to the cloud.
Cloud Services From Vectorworks
To synchronize and compute presentation and construction documents in the cloud, simply drag your Vectorworks file to the Cloud Services Desktop App's project folder on your CPU, and wait for a connection. The file may reside temporarily in a queue based on load. Next, the remote server processes your file just as your desktop would, and results are automatically downloaded to your desktop or mobile device.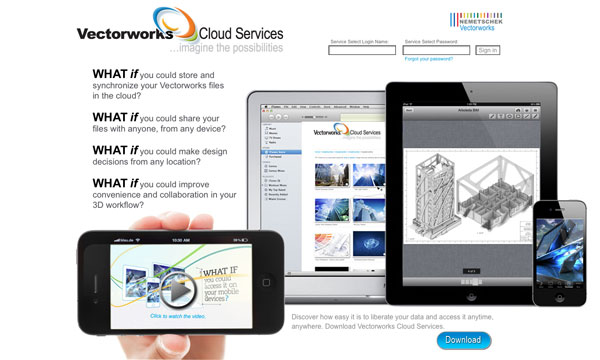 Cloud servers are very capable from a hardware standpoint, and can manage multiple file instances at once, meaning uploads won't interrupt your workflows. Additionally, the Vectorworks Cloud Services sync can be automated to occur based on a user-defined schedule —sort of like a "set it and forget it" option.
Vectorworks Cloud Services users have up to 5 GB of storage capacity, and files are transferred over a secure HTTPS connection to and from the cloud, encrypted with AES-256, a U.S. government adopted security standard. Stored files are similarly encrypted. We also use Amazon Web Services for our cloud infrastructure, which enhances reliability and availability by providing redundancy and multiple data centers worldwide. (Read more about cloud security at http://aws.amazon.com/security/).
Leveraging Mobile Devices
Another benefit of the cloud is that it lets people use iOS hardware they already have to be more productive. For example, our cloud product features the Vectorworks Nomad app, which lets users browse through and share their designs from any computer or web-enabled device, such as an iPhone or iPad. So whether you're at your desk, in a meeting, on the job site, or on vacation, you can view, mark up, share, and synchronize Vectorworks files across your devices and with your colleagues. The app runs on any iPhone or iPad that has iOS v5.0 or later, and an Android version will debut later this year. (The Vectorworks Cloud Services desktop app requires OSX 10.6.8 or newer and Windows XP SP 3, Windows Vista SP 2, or Windows 7.)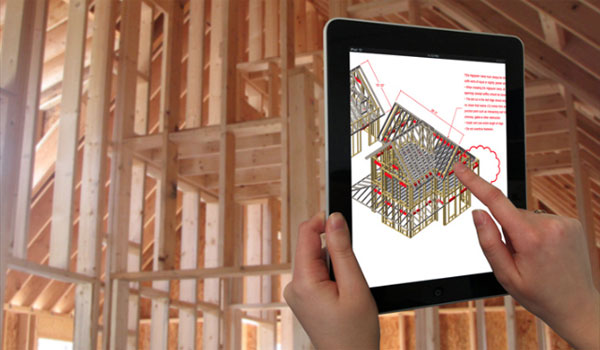 Today's iOS hardware relies on Wi-Fi and 3G or 4G data networks, which makes them a perfect conduit for communicating files processed in the cloud. So just imagine the possibilities as these mobile devices become more powerful and as the services to match these capabilities also grow.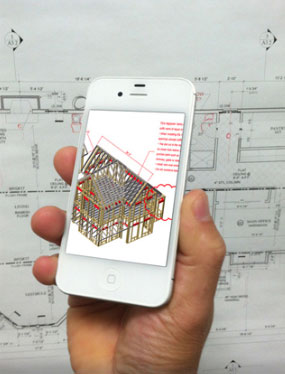 In the meantime, CAD software users can take advantage of their iOS hardware to access files in a practical way. And from a project management perspective, it's all about increasing the efficiency of employees to do more. Embrace cloud services and you'll make your workflows and your teams more efficient.
Author's Note: Vectorworks Cloud Services is currently available for free to members of Vectorworks Service Select, a subscription program that provides customers with the latest product releases and updates, as well as priority technical support, and VIP access to downloads and a growing library of on-demand learning tutorials. Visit www.vectorworks.net/cloudservices to learn more.
Author: Jeremy Powell, Director of Product Marketing, Nemetschek Vectorworks, Inc.