Autodesk Infrastructure Modeler, part of the Autodesk Infrastructure Design Suite, Premium and Ultimate editions, is civil infrastructure software developed to:
Enable planners, engineers, and designers to model existing infrastructure and import detailed models in order to create realistic 3D models of the environment;
Sketch early-stage designs directly into 3D models;
Create and manage multiple alternatives;
Communicate visually rich infrastructure proposals; and generate preliminary design models which can be used to create submittal documentation in civil engineering software, such as AutoCAD Civil 3D.
In the following post we'll describe how to use existing information to create compelling 3D design visualizations with MAP-21 (Moving Ahead for Progress in the 21st Century Act) requirements in mind.
If you are installing Autodesk Infrastructure Modeler for the first time, review the hardware requirements to ensure your hardware will run the software efficiently. (For more advice on the best hardware configuration for Autodesk software, review our series on AutoCAD 2013. Much of the same advice applies to other Autodesk products.)
Once installed, to create a realistic 3D model using Autodesk Infrastructure Modeler:
Start Autodesk Infrastructure Modeler and click new from the start page.

Choose a directory and name for your project. If you know the extents of your project you can also enter them in here.

With the project started, data is imported and used as the basis for your 3D model. Autodesk Infrastructure Modeler allows you to combine 3D and 2D data in order to create a full 3D scene. For this post, we will use a terrain model (DEM) as our base 3D layer, and all of the other contextual data, like imagery, roads, and buildings come in 2D formats. Click on 'Data Sources' from the ribbon; on the 'add file data sources' dropdown, select 'Raster'. After import this data source shows up in the 'Data Sources' panel. Double-clicking the data source allows you to modify the viewing properties of this data source. Click the 'Close & Refresh' button at the bottom of the configuration window to generate a 3D visualization in Autodesk Infrastructure Modeler.

Add imagery using the same procedure.

Use the same process to add roads, but use SHP as the Source Type. In this example, roads are stored in a 2D Shapefile. After import, double-click on the newly imported data source to configure it. Select 'Roads' as the 'Type' in the dropdown list. With 'Roads' selected you can now configure the roads style and other properties based on the metadata that comes with the Shapefile. For instance, you can choose a style rule to match the 3D road style (striping, sidewalks, median, number of lanes, etc.) based on existing metadata. Click the 'Close & Refresh' button on again to generate the 3D visualization.


Lastly, we'll add buildings to our scenes using the same procedure outlined in step 5. Select 'Buildings' as the 'Type' in the dropdown list. Since the buildings in this case are 2D footprints, we'll select an attribute with a Z-value (elevation or height) from the 'roof height' dropdown. Once again click the 'Close & Refresh' button.

Voila! You have just created a 3D model using Autodesk Infrastructure Modeler. You can use this model to sketch preliminary designs of new infrastructure which includes roads, railways, city furniture, water areas, and even buildings. You can also exchange information with Civil 3D – using the IMX file type – to maintain consistent data and context as the project is further developed. This 3D model-based approach enables you to deliver on MAP-21 requirements for 3D modeling and visualization, on infrastructure projects of varying scales.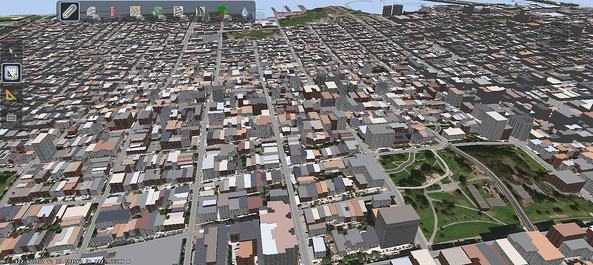 Author: Justin Lokitz, Senior Product Manager, Autodesk.