Editor's Note: Welcome to Cadalyst's blog series by Patrick Hughes, A CAD Dinosaur's Journey into Modern Times." In this three-month series, Hughes chronicles his transition from AutoCAD R14 to v2015 and from an outdated PC to a state-of-the-art professional workstation. Follow along and enjoy!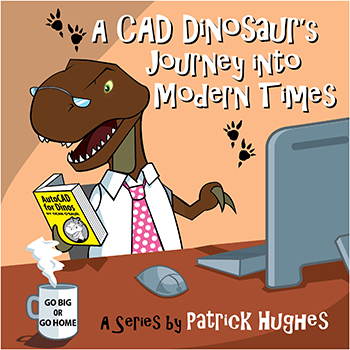 It has been an incredible journey these past few months as I have dived into AutoCAD 2015. Many times I have felt like Odysseus on my own odyssey. While my work is not done, it's time for me to put all the pieces together. I've been able to use many enhancements immediately such as File and Layout tabs, visualization, and other viewing options. Being able to modify objects via the Properties Pallet is a very welcome addition and has been an easy transition. I'm slowly adopting some of the new interface elements such as dynamic input.
I've also found that the integrated calculator is especially easy to use and eliminates errors. Likewise, Associative Arrays lend themselves to easy use. Other items do take a bit of time to get used to such as the Viewbase tool. Plus, learning the details of using Constraints can be time consuming, but it takes time to get the most out of it. There is a bit of a learning curve with Dynamic Blocks, but the more I add to my library, the more significant impact it will have on my productivity. Solid modeling and editing have advanced tremendously since AutoCAD Release 14 days.
AutoCAD 2015 is truly an expansive CAD package that offers a vast array of tools and commands for working with everything from solid models and renderings to 2D drafting. I have long thought that my knowledge of commands and tools only approaches about 20% of all that AutoCAD has to offer. The additional tools that are now available, comparing Release 14 with 2015 has likely brought that level down to a bit. I take solace in realizing that I don't need to know all AutoCAD has to offer — I should leave something to do on a rainy day.
Sheet Sets
Speaking of new things, I recently tried out sheet sets for the first time. They were introduced in AutoCAD 2005 and are designed to help you organize and manage multiple drawings within the Sheet Set Manager. When I created my first sheet set, Layouts within drawings became even more important. Now, I have to reassess my use of model and paper space. Until now, I've used paper space as a viewing aid — placing viewports in paper space so that I can view of my model in isometric and orthographic projections. Once I begin using Layouts in my drawings, I will make good use of the Sheet Set Manager — at the very least it will help streamline the way I find drawings.
In the End
I tend more towards self-learning rather than structured training. While this can be frustrating at times, AutoCAD's ribbon interface and the mini tutorials that pop up are a great way to learn commands. Tapping into the Autodesk forums is also a great way to learn how best to use AutoCAD. The friendly people who spend their time coaching, advising, and problem solving are a tremendous resource. Of course there are also many dedicated bloggers who freely offer their expertise. I've had the pleasure to get to know many of them.
While it wasn't intended as a set of in-depth instructional articles, but more as an examination of what may be in store for those users who currently work with an older release of AutoCAD and are planning an upgrade. While what is important to me may or may not affect you, I can assure you that whatever your CAD work needs are, a new copy of AutoCAD can and will have a profound impact on your future work.
Rawrrr!
Though this series has come to an end, this may not be the last you hear from this crusty old T-Rex. In the meantime, I hope you will think of me when you encounter my relatives in a museum and as you watch my closest friends in the movie theater. Just remember that we are struggling to find our way and survive in this strange, modern world. Be kind, lend us a hand, and be patient. You wouldn't like us if we get angry.
_________________
About the author: Patrick Hughes, machine designer and owner of Engineered Design Solutions in Rockford, Illinois, has worked with AutoCAD since 1991. He has developed a number of AutoLISP and other software solutions to automate his workflow and increase productivity, including the commercially available time tracking program, CadTempo.